CASE STUDY

BILL GATES VISIT TO INDIA-NOVEMBER 11-14, 2002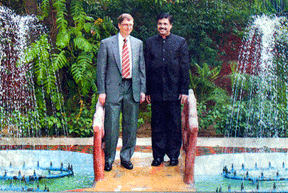 Source: The Times Of India Ahmedabad 13-11-2002
AN EXERCISE IN CORPORATE ENVIRONMENT MANAGEMENT
By Babulal Yadav
Corporate Environment Management precedes Marketing
Bill Gates, Chairman of the world's largest IT firm, Microsoft Corporation and the world's richest man (worth $42 billion equivalent to about 10% of India's GDP) visited India for 4 days from November 11 to 14, 2002.
He arrived in India's capital New Delhi on Monday, November 11, 2002 morning and left from Hyderabad on Thursday, November 14, 2002 evening moving in between through Mumbai, the commercial hub and Bangalore, the IT hub of India.
During the visit, he attended a variety of business, met important people, held several meetings and addressed seminars.
However, what caught the attention of everyone most was his exclusive devotion of the first day for a philanthropic activity i.e. fighting of AIDS and announcing an extraordinary aid of $100 million (Rs.500 crores) for the same. It was the single largest charity given to any country so far by Bill and Melinda Gates Foundation. Like Microsoft, Gates Foundation is also the world's largest charitable organization formed with $24 billion (Rs.12000 crores) contribution from Bill Gates. The announcement of charity was made prior to the declaration of equally sizeable investment plans worth $ 400 million (Rs.2000 crores) for business promotion in India.
Addressing a social cause before business and that too with an unprecedented sum of funds could not be considered as a casual affair. It surely was a well planned strategic act on the part of Bill Gates and Microsoft.
We do not know what rationale would have prompted Bill Gates to adopt such a strategy. But, we certainly consider it as an extraordinary and shining example of Corporate Environment Management (CE Management or simply CEM) exercise. The study below attempts to understand how Microsoft Chairman Bill Gates had brilliantly applied CEM concept for managing Microsoft's business environment in India, its most important and potentially largest business territory.

PURPOSE OF VISITING INDIA
Officially, Nov 11-14 visit was aimed at boosting the work of Bill and Melinda Gates Foundation partners in India and raising the profile of the healthcare issues particularly concerning HIV Aids. Gates Foundation is the world's largest private charity created in 2000 by Bill Gates and his wife Melinda by contributing an awesome $24 billion (Rs. 12000 crores) endowment. It grants aids mostly to healthcare programs. India incidentally is the largest beneficiary of Gates Foundation.
However, the charitable concerns had business connection, too. It is amply evident in Bill Gate's following statements:
"India has contributed an amazing amount to the software industry as a whole and to Microsoft in particular. A high percent of our great people come from India, a lot of our key partners are based in India, and so there is a desire to give back because of that."

"India is a super super important country for the software industry and for Microsoft, yes, but also for the rest of the world."

"Between India and China they form a third of the world's population. If they do the right things it would be such an amazing thing for the entire world…that makes it a sum of higher priority."
These statements indicate that Bill Gates is clear about India's importance in the world as a supplier of software products, software personnel and as a consumer of Microsoft products, now and in future. He also realizes India's place vis-à-vis that of China. Microsoft's business interests in China are approximately 10 times the $ 75 million it decided for India two years ago. These are the reasons enough for him to woo India.

PRIORITY FOR PHILANTHROPY
While Microsoft considers China and India as strong future markets for its products, it is also aware of their impending fate on healthcare front. They are expected to account for about 50 million AIDs cases over the next decade. India is considered worst hit with an estimated 4 million HIV cases at present. Despite such seriousness of the problem, it could not secure assistance from an UN initiated Global Fund for TB, Malaria and Aids.
Here Microsoft found an opportunity to extend a helping hand to India through his charity arm i.e. Gates Foundation. Regarding the philanthropic favor to India, Joe Carrier of the Foundation mentioned as follows:
"Bill is very passionate about fighting AIDS, since in India it is yet not a big problem, he feels putting in money for the cause will avert a crisis later. Also, he wants to return some of what he has got back to society."
Bill Gates wanted to ensure that his philanthropic action during the visit received extensive publicity and was noticed by Indian public and government. In pre-visit press releases, the whole emphasis was on AIDS charity totally obscuring business interests. Microsoft officials were reported to instruct media person's ground rules for meeting Bill Gates:
"Don't talk about Microsoft. Don't even breathe software. Delete Linux from your consciousness. Just stick to the Gates Foundation and AIDS."
The first day was scheduled exclusively for Gates Foundation related activities and no other business, not even the talk of it. Such was the importance attached to the Gates Foundation programs.
Philanthropy was consciously planned to precede business.

THE VISIT – EVENTS AND ACTIONS

To understand the role of CE Management, it is worthwhile to look at the itinerary of Bill Gates' 4-day visit and study the events and actions taken place during the same
FIRST DAY: MONDAY, NOVEMBER 11, 2002
| | |
| --- | --- |
| | Arrived in morning into the national capital New Delhi. |
| | The day was scheduled to be devoted exclusively for the charity work of Bill and Melinda Gates Foundation. |
| | Met Prime Minister Atal Bihari Vajpayee who appreciated the efforts of Gates Foundation partners in India and assured to be supportive of future programs. |
| | The day was scheduled to be devoted exclusively for the charity work of Bill and Melinda Gates Foundation. |
| | Visited Naz Foundation Trust in New Delhi; met AIDS patients at the volunteer group's office. |
| | At a press conference, announced a $ 100 million (Rs.500 crores) grant to fight Aids in India; largest ever single-country grant by Gates Foundation; work of the Foundation will complement the Government work; a Board will be constituted to manage the fund with Minister for Health & Family Welfare, Mr. Shatrughan Sinha as Chairman; other members will include Government officials, representatives from business, medical and NGO communities. |
SECOND DAY: Tuesday, November 12, 2002
| | |
| --- | --- |
| | Stayed put in New Delhi. |
| | The day allotted to declaring Microsoft's business plans for India. |
| | Had a meeting with Mr. Kunhalikutty, Kerala's Industries & IT Minister. |
| | Called on Mr. Pramod Mahajan, Union Minister for Parliamentary Affairs, Communication and Information Technology; Mr. Mahajan made a presentation on Project 'Shiksha' aimed to accelerate computer literacy; Gates decided to back up the project. |
| | Gates made a presentation to Mr. Mahajan on "Realizing Potential in the Digital Decade" and "Bridging the Digital Divide" which contained his vision of Digital Decade 2000-2009. |
| | Announced an investment of $ 400 million(Rs.2000 crores) in India; investment to spread over 3 years to boost education, partnerships, innovation and localization; the investment will support the following initiatives: |
a. 'Shiksha' Literacy program for computer literacy at school level-it will cover 80,000 school teachers and 35, 00,000 students in 5 years; allocation $20 million.
b. Media Lab Asia project to dovetail a 'Shiksha' initiative to IT Departments on –going 'Vidya Vahini' project; allocation $ 1 million.
c. 'Akshaya' a Kerala Government's proposed project for ICT dissemination involving local bodies like Panchayats and private sector.
d. 'Gyandoot' –a citizen's interface presently in Dhar district of Madhya Pradesh to be extended to entire state.
e. Partnering with state education Departments to set up Microsoft Academy Centers and collaborate with over 2000 partner driven school labs in 5 years.
| | |
| --- | --- |
| | Announced Microsoft's future business strategy for India; it will involve |
a. Localization of Microsoft products:
i. launching Windows and Office in Hindi within the next year.
ii. Windows XP local language support to Bengali and Malayalam.
b. Competition from Linux: Gates hit back at Linux his fastest growing rival giving free access to its software products; refuted growing clout of Linux in China; and possibility of Indian states preferring Linux over Windows; said Linux will not affect MS Windows but other Unix based softwares.
c. Launching of Tablet PC in India next month: A new generation 'can't fail' computers from Microsoft.
d. Expansion of Microsoft's India Development Center at Hyderabad; will increase number of engineers from 200 to 500 over next 5 years.

THIRD DAY: WEDNESDAY, NOVEMBER 13, 2002
| | |
| --- | --- |
| | Reached Bangalore, the Information Technology capital of India. |
| | Purpose- to meet his Business Associates Infosys and Wipro who are important software product suppliers to Microsoft; India is the only country other than US which exports software and a major part of it comes from these companies. |
| | Address at Infosys campus; addressed about 2500 software developers and Business Executives; told that India and China would define the future of the world business and India had all the makings of a competitive manufacturing hub; India is on course to become a global hub for 'mission critical activity' in software; envisioned that in Digital Decade 2000-2010 everyday life will be touched in a dramatic way by the benefit of the PC as a tool; presently major R&D spend is towards voice and speech recognition, trustworthy computing and Web services. |
| | Address at Wipro's Learning Center on campus; addressed about 2000 plus Wiproites; Microsoft is a leading software vendor of Wipro products; mentioned that Wipro-Microsoft combination can take on competitors like IBM. |
F OURTH DAY: THURSDAY, NOVEMBER 14, 2002
| | |
| --- | --- |
| | In Mumbai, India's commercial capital. |
| | Purpose-asserting Microsoft's supremacy and marketing |
| | Addressed India's Business and IT leaders at a gathering organized by The Economic Times-a national leading business newspaper; the most glamorous event of the visit; attended by who's who of business ; Gates was welcomed and introduced by Mr.Mukesh Ambani ,Chairman ,Reliance, the largest corporate in India; |
| | Presented future in Digital Decade 2000-2009; it will be world without barriers in which smart computers and snaking cables will render irrelevant all time zones and space; everything will be in digital format; there will be pocket sized devices, portable PCs and connection to Net. |
| | Hard sale of TabletPC; the latest gizmo of Microsoft. |
| | Predicted India's future in Digital Decade; informed that India would benefit because of its unique education system and the number of engineers it turns out; India is the only country other than US which exports software services; reputation of the Indian companies is growing; it is becoming common sense to look at India, if you want to do anything in software. |
Return via Hyderabad its base in India viz.India Development Center.
ANALYSIS – THE CEM PERSPECTIVE
To understand the compulsions and pressures of business which have led to Bill Gates visit to India and make $500 million (Rs. 2500 crores) worth commitments in investment and charity, an understanding needs to be developed of its Business Environment through an analysis of the itinerary, events and the actions taken during the visit, of course, within the CEM perspective. It is presented below:
| | |
| --- | --- |
| | Microsoft's Business Environment-Global: |
Microsoft is the world's largest supplier of computer operating systems popularly known as Windows and MS Office. It reins supremacy by controlling 93% software used in desktops across the globe. India and China are the largest markets for Microsoft's software products, now and in future. Till recently, Microsoft has enjoyed almost monopolistic situation. Microsoft softwares are not available free and source code not accessible freely. This has helped it earning phenomenal wealth and making Bill Gates the world's richest person. So far, so good. But, a competitive situation has been developing particularly in China from Linux. Linux offers a free access to its source code and computer operating softwares. Obviously, Linux has started making a dent into Microsoft's largest market. And, hence a cause of Bill Gates business worries.
| | |
| --- | --- |
| | Microsoft's Business Environment-Indian : |
Microsoft's business growth is directly linked to the growth of PCs. India and China because of their populations are indisputably the apples of its eyes in terms of market size. India scores higher than China due to the Indian education system which Bill Gates has found conducive to IT education and product applications. Thus, it is quite natural for Microsoft to attach top priority to India as the most important market for its software products.
Microsoft finds India important for two reasons-the size of population and quality of the people. The size makes India quantitatively the largest market for Microsoft products. The superiority of their technical competence, English communication capability, intelligence and hard working attitude make them ideal employees for software development and research. Microsoft knew from the beginning that India had been a dependable source for Human Resource. It has been producing the largest pool of engineers, programmers and developers in the world. About 10% of its present 50,000 employee strength comprises of Indians even in the top echelons. Telugu could well be passing to be a widely accepted language at Redmond, the Microsoft Head Quarters. Like China, a competitive threat has started developing in India, too, from the Linux operating systems. As Linux source code is free and downloadable from the internet, it is rapidly winning over home PC users and state Governments in India. According to reports, Chief Minister of one state had confided that Bill Gates' India visit was mainly to woo state administrations
Microsoft operates in India through its branch India Development Centre (IDC) at Hydrabad opened in 1997.This is Microsoft's second office outside USA. (The first office was opened in Haifa, Israel in 1997.).The present strength of IDC is about 200 engineers. IDC is of strategic importance to Microsoft which has been assigned to developing products and technologies in three strategic areas of work. However, it seemed to be progressing slowly.
| | |
| --- | --- |
| | External Forces operating in Indian Business Environment : |
Microsoft's Business Environment in India was certainly disturbed. To turn it favorable, Microsoft needed to identify various External Forces particularly with negative influences and apply adequate pressure of communication and resources to turn them positive. Here is an attempt to identify what were the external forces important from the Microsoft's point of view which required corrective actions.
Society : As mentioned earlier, Indian public as a whole is important to Microsoft business. To expand market in India, Microsoft required enlarging the PC user base by targeting English speaking students and non-English knowing people. Students required computer education and training. Non-English knowing people required user friendly software in local languages. Further, keeping in view the ensuing competition from Linux a need had emerged to create awareness and long term loyalty towards Microsoft. It also owed an obligation towards Indian society, which has been a major source of its technical manpower who has contributed significantly towards the success of Microsoft.
Business Rivals : The fast developing popularity of Linux in India had become a matter of serious concern for Microsoft. To combat this threat was the most important agenda of the visit. Yet, it was not to be highlighted as it could create an impression of a disturbed business leader for Microsoft.
Government: To implement all its business plans and making business investments, approvals of Govt. of India and particularly the Ministry of Information & Technology, which is the relevant Ministry, are required. Long term sustained Govt. support is essential as Microsoft initiatives in India are designed for mass scale and long term influence. Further, State Governments which were showing preferences for Linux required convincing about Microsoft's superiority over Linux and any other competitor.
Investors : Investors here would also include Business associates Infosys and Wipro in Bangalore are Microsoft's important suppliers of software products. Apart from USA, India is the only country in the world which is exporting software and it primarily comes from these institutions. It required transacting business with them and rejuvenating business relations including briefing them of Microsoft's future business plans.
Business Groups : Support of business leaders and their representative associations is required for the success of any Corporate. While on visit, it is customary to make courtesy calls to local business leaders. A business leader also needs to share his vision, plans and achievements with peer groups. Their support is also required to favour policies and strategies relating to your business.
Media : Visit of a global business leader after about two years in itself is important news for the media to give proper coverage. However, in the present case, Microsoft had some specific objectives to attain. It was interested in informing the Indian people about its extraordinary philanthropic action for them and registering that this action did not have any correlation with business interests. Next, its long term investment and business plans countering the competitive threat of Linux also required highlighting. Hence, Microsoft required extra care in mustering media support.
Other External Forces like Bureaucracy, Law & statute and Religion were apparently found not significant and relevant for the purpose of this visit and hence no explicit action was envisaged with regard to these.
| | |
| --- | --- |
| | Strategy to Mitigate Negative Influence of External Forces : |
To influence a potential customer base, as large as Indian nation, the influencing action too was required to be proportionately sizeable. An opportunity was found in AIDS prevention program. Statistical information had indicated India to be the worst affected in the World. Despite the serious magnitude of the problem, Indian Government had failed to procure assistance from UN agencies. Microsoft sensed an opportunity here sizeable enough to fit its purpose and the bill. Gates Foundation-the world's largest charity organization only could serve as the alternative source of funds. For it, to commit an assistance of $ 100 million out of its $24 billion could never be a problem.
| | |
| --- | --- |
| | Actions Taken for the Management of External Forces : |
Having identified the active external forces in its Indian business environment, Microsoft went about taking corrective actions to mitigate their negative influence and convert them for favorable effects. The actions taken by Microsoft in this case were as follows:
Society: To appease the Society in general, Bill Gates announced an aid of $100 million for protection against AIDS in India. It was one of the highest amounts of charity committed in the world. The magnitude of the charity was in proportion to the magnitude of the problem and the size of the potential customer base. Further the exclusive attention given in the form of allotting the whole first day of visit for charity had created a definite positive impression on the people at large. In Bill Gates own words "…it is yet not a big problem, putting in money for the cause will avert a crisis later. Also, he wants to return some of what he has got back to the society."
The announcements of financial support to Shiksha, Gyandoot and Akshaya projects would help Microsoft linking with the students and people in the project areas on a massive scale for next five years.
By announcing Windows and MS Office compatibility in Hindi by next year and in Malayalam and Bengali in subsequent years, it had already influenced a major segment of non –English speaking population.
Government : It started immediately on arrival. The first meeting took place with the Prime Minister Atal Bihari Vajpayee in New Delhi who assured Bill Gates full support for all Microsoft initiatives in India.
The announcement of $ 100 million charity for AIDS would certainly have pleased the Govt. of India who could not procure it from other agencies. The management of Fund was also left with the Minister for Health as the Chairman of the Board.
The next meeting on second day was with the Head of the most relevant Department concerning Microsoft Business-Minister of Information & Technology, Mr. Pramod Mahajan. Bill Gates announcement of $ 400 million investment in India in next 5 years would also have pleased the Govt. of India. Further favour was secured by agreeing to a $ 20 million aid for Shiksha- an IT computer literacy program of the government. He also apprised him of his present investment plans worth $ 400 million and his future programs in Digital Decade 2000-2010.
To gain favor of state Governments, he announced financial support to Kerala Government's Akshaya project for ICT dissemination and MP Government's Gyandoot project. To strengthen the relationship further, it announced setting up of Microsoft Academy Centers and 2000 partner driven school labs over the next five years.
Business Rivals: At every given forum, Bill Gates refuted the threat from Linux. Bill Gates claimed that Linux would affect only the UNIX based softwares rather than Windows and MS Office. Some of the states which had shown preference for Linux were committed financial support to its IT projects. These moves were supposed to containing the competition and rivalry. The rivalry concern was subdued behind the massive AIDS charity announcement.
Investors (Business Associates) : Bill Gates spent his entire third day at Bangalore visiting Infosys and Wipro discussing business and future plans. He addressed gatherings of over 2000 employees each at their respective premises and shared with them about his vision of IT industry's future and trends in Research and Development. Same day after the visit, Wipro announced possibility of signing a deal for handling BPO business of Microsoft in India. To boost activities at its own establishment IDC, an investment of $100 million (Rs. 500 crores) and increase in engineer's strength to 500 in next five years was announced.
Business Groups : Instead of choosing platform of any known Business Association in India, Bill Gates gathered the top business leaders of Indian IT and other business. Appropriately, he addressed them in the commercial capital Mumbai on the fourth day. There, he grossly indulged in sharing with them his vision of the Digital Decade and hard core selling of TabletPC, the latest IT gizmo from Microsoft. It not only educated and thrilled the business leaders but reaffirmed Microsoft's supremacy in the IT world.
Media : The pre-visit publicity was very low keyed restricting to highlight the AIDS support program and not the business schedule. Even on the first day of the visit, media was advised by Microsoft officials to talk and communicate only the AIDS program. It created the feeling that how much Bill Gates was concerned about the AIDS and Healthcare problems of the people of India. But, from the second day onwards, it was business and nothing else. The $400 million investment plan was highlighted properly.
It was significant that The Economic Times, India's leading English language Business newspaper organized the Business Meet in Mumbai and gave voluminous coverage to the event. It would go a long way in building a strong corporate image for Microsoft.
| | |
| --- | --- |
| | Cost of CE Management : |
Like any managerial function, there was a cost accrued to Microsoft for its Corporate Environment Management initiative. It was $100 million (Rs.500 crores) one of the highest in the world. In addition, investment commitments to Shiksha, Akshaya and Gyandoot projects may also be added to it.
CONCLUSIONS
Bill Gates' Nov 11-14, 2002 visit to India was definitely a business visit during which he announced $400 worth investment plans for India in the next 5 years. The investment plans included state govt IT projects, computer literacy and education programs of the govt, and setting up of Computer Labs etc. All these were aimed at developing a long term association with Microsoft and his products. He also promoted his new product TabletPC which was scheduled for market entry in the subsequent month. An extensive awareness was created about BillGates future vision for IT industry and its impact on human life in 'Digital Decade 2000-2010'.
Despite a definite botheration about the business threat developing from Linux, it was not explicitly admitted. It was subdued with the announcement of declaring a $ 100 million charity for AIDS and Healthcare support programs. This action in Corporate Environment management won a favorable corporate image with the people of India, indirectly giving a blow to the competition.
Thus, Bill Gates visit to India and actions taken during the same have become a classic case of Corporate Environment Management to combat an ensuing business threat. This is perhaps the largest case of its kind considering the area of influence as big a nation as India and the cost as big as $100 Million (Rs. 500 crores) and executed by the largest corporate of the world. Most important of all, Bill Gates had chosen to assign priority to CEM and precede it over the other management functions.


( Acknowledgement: The above case study has been prepared based on the news and reports published chiefly in The Times of India, Ahmedabad; The Economic Times, Ahmedabad ; Business Standard, Ahmedabad etc in the relevant period. The author acknowledges their support and thanks for the free use of their reports.)
UPDATE
13-Dec-2002 : The Economic Times, Ahmedabad
MS to share Windows code with India : One month after the visit, Microsoft is reported to have already moved a proposal to the Ministry of Information and Technology for sharing the Windows source code with one Government body.
Comment : Please, recall Bill Gates refuting a threat from Linux and hitting back hard during Nov11-14 visit. And, also his meeting with Minister of IT on Nov 12 in New Delhi and agreeing to support his 'Shiksha' project with $ 20 million grant.
16- Jan- 2003 : The Economic Times, Ahmedabad
Microsoft opens source code to governments : Two months after the visit, in an unprecedented move, Microsoft declared to open its source code to governments and international organizations worldwide. Under a programme called Government Security Programme, Microsoft intended to allow governments and their agencies to examine its source code to enhance the security of their software used for tasks such as tracking personal data, taxes and ensuring national security.

The disclosure will be done at the discretion of government agency. Whereas, NATO and Russia have agreed, discussions are on with more than 60 other governments. Indian Government has already been approached about a month ago.