INTRODUCTION

THE NEED OF THE HOUR
The new millennium has posed new challenges to the managers in the Corporate world. These challenges may be in any form- a new business style, a new technical advancement, a new set of laws, new competitors, enhanced expectations of the society, changed political equations and so on. And, soon under the barrage of such challenges, the protective walls surrounding Corporates have started crumbling down, threatening survival and existence. Combating these challenges more frequently and effectively has become the need of the hour for any business manager.
Following remarks of Management Guru, Mr. C K Prahalad, Professor University of Michigan Business School, perhaps, describe the scene most aptly :
"In the new millennium the managers are more likely to live and work in a new competitive environment characterized by the co-existence of intense global competition and intense global opportunities……deregulation of industries and privatization of firms worldwide is creating a different demand on management. The focus here is changing the business models.
Business models that develop under regulatory regimes that allow protection from competition, privileged access to customers, low to no cost pressure and passive customers are incapable of coping the demands of an open and competitive market place. Deregulation destroys local monopolies.
… in these industries, managers have to change business models, moving from one applicable to markets with restricted or no competition to one that can function in open and global markets"

(Source: Executive Excellence, January2000 issue)
IMPORTANCE OF BUSINESS ENVIRONMENT
In the scenario mentioned above, changing Business Environment emerges as the most important factor to be cautioned about. The changes taking place outside the organization appear to be affecting business more than the internal operations. Hence, we may call it the External Environment of a corporate or, simply, the Corporate Environment.
In the present millennium, the external environment has become global in dimensions. It has become vast and open to provide more business opportunities, yet has developed threats for enhanced competition. It will lead to setting up business in new locations in new nations having there own social, cultural and political values, and business rules, too. These are the Elements or Forces which make up the Business Environment.
To be successful in management, one needs to understand the Business Environment and its Elements properly at the place of operation. The importance of managing Business Environment has become more pronounced and significant now because of the opening up of business on global level.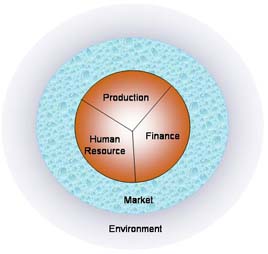 EVOLUTION OF 'CORPORATE ENVIRONMENT MANAGEMENT'
During the course of my 28-years professional management career, I realized the importance of Business Environment. I focused my attention in analyzing and studying the subject more intensely in the last 15 years when I had the opportunity to work for several large Greenfield projects.

Coincidentally, I realized the need for evolving a more crisp, clear and logical definition for Public Relations within the business management perspective when I took over as the Chairman of Public Relations Society of India, Ahmedabad in 1996. This need further indicated towards a missing link which required serious exploration. Finally, the concept took some shape and was presented in its initial form on 18-sept-99 at the Annual General Meeting of PRSI, Ahmedabad.

Thereafter, the concept was continuously refined, tried and tested on several on-the-job situations. It was also presented for discussion in several classroom lectures delivered by me at the local management institutions. Finally, CEM evolved as a full-fledged basic management function in the form as presented here.

DEFINITION
In its present form, the CEM concept has been defined as follows:

"Corporate Environment Management – CEM is a basic management function dealing with the management of external forces exerting continuous influence on the operations of an organization.
The concept has been developed to identify the external forces, which makeup the corporate environment, understand their behavior and manage them successfully for achieving corporate goals.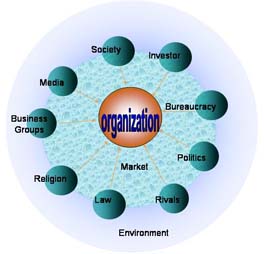 CEM- AN EFFECTIVE BUSINESS MODEL
CEM has been justified to be a basic management function like production, marketing, personnel and finance. Hence, it may be added to this list as the fifth management function.
It has been found to be an universal concept in the sense that it is equally applicable to non-business situations, too, with the same efficacy as business situations for which it was originally evolved.
Through several trials over a period of time, a systemic approach for CEM practice has been evolved. The system of practice enables efficient management of variable external forces with objectivity and accountability.
Infact, attempting solution to any business problem will not be accurate and complete without incorporating CEM into it. It is an essential ingredient to business management process. It is the million dollar solution for today's billion dollar problems.
CEM-Theory and Practice document copy may be obtained on request by clicking below:
document@cemanagement.org